Across the highway from Veterans Rock

614 South Greeley Highway, Cheyenne, WY

Bicycle Round-up

Bake Sale

Membership Drive

Poppy Drive
The second annual VFW Day of Service is May 6, 2023. This event unites veterans across America around a common goal—showing the nation the impact veterans make in their communities.
VFW Post 11453 is honoring this commitment by holding a bicycle roundup and bake sale on that day at 614 South Greeley Highway. Bicycles and proceeds from the bake sale will go to Veterans' Rock, a non-profit that provides rock-solid support to veterans in the form of household items, food, help with housing and jobs, and the list goes on. Joining us in our efforts are two Cheyenne clubs: GFWC XJWC and GFWC Meadowlarks.
In addition to the roundup and bake sale, VFW Post 11453 will be distributing poppies and taking donations. As always, poppy donations go to help our veterans. We will also welcome any potential VFW members to come talk to us at our booth. Check eligibility requirements.

Come on by with your donated bike and your sweet tooth!
We'd like to thank Town & Country for allowing us to hold this event in their parking lot.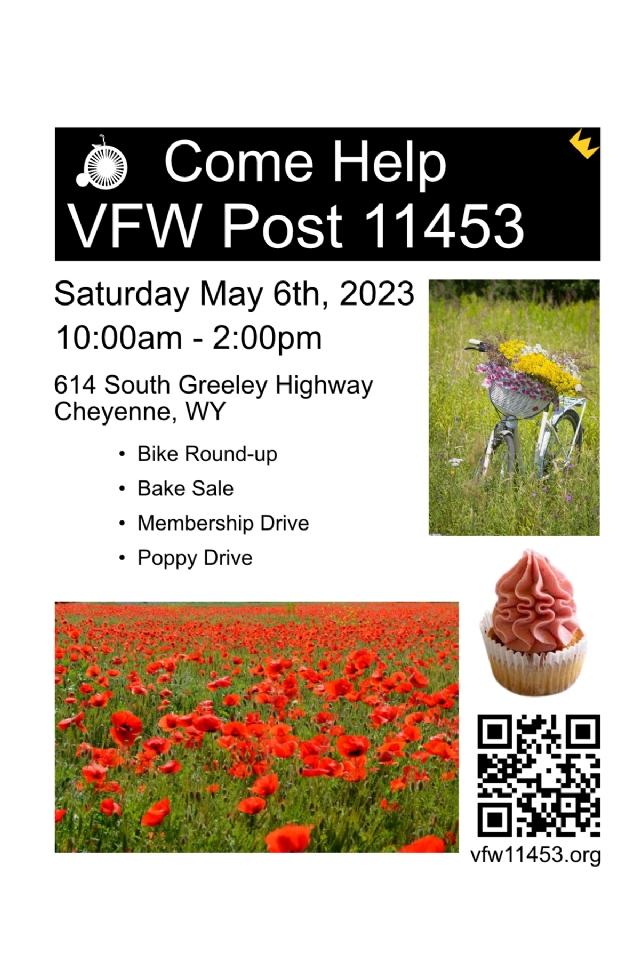 Please stop by to donate a bicycle, cash, time or just to visit. VFW Post 11453 will also be accepting applications for membership into the Post, but you do not have to be a member to help with this event.
the ratio of this jpg is intended to be used to print 4"x6" photos but can be used in other ways.